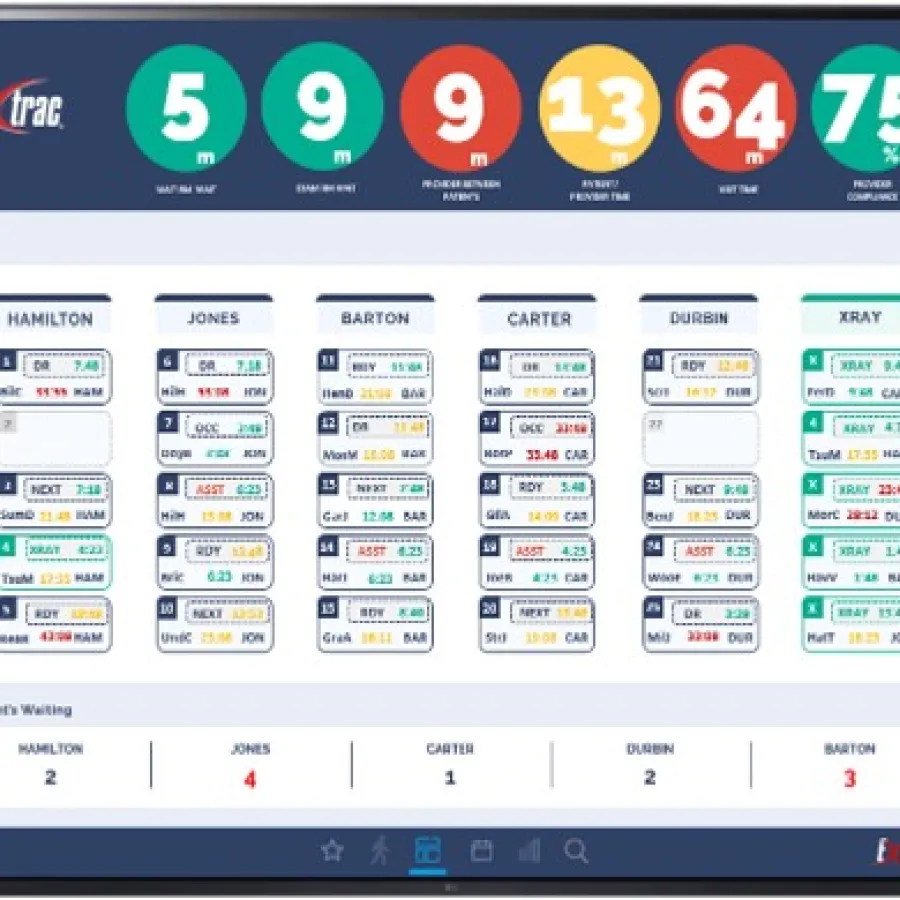 Xtrac Board
Patient Flow Monitoring
Expeditor opened their doors in 1982 offering a better way to streamline communications in the clinic and ever since they have been helping over 7,000 clients improve communication and now increasing overall patient flow efficiency. They do this through a fully customized door to door solution designed to help practices of all sizes increase patient experience, satisfaction as well as increase their bottom-line through gained efficiency.
Based upon the patient's flow through their visit, Expeditor focuses on 5 key components
It starts with the patient entering the medical clinic and approaching the reception counter to check-in. Expeditor offer a Patient Arrival tool that quickly checks in the patient and then the patient sits in the waiting room until the Medical Assistant comes and gets them. Next, when the MA is ready to place the patient in an exam room, they move the patient to an open exam room in the Expeditor Patient Move Tool, and then the MA goes and gets the patient and places them in the exam room.
Once the patient is in the exam room, our state-of-the-art, fully customizable Light Signaling System equips your practice with easy-to-use light panels positioned throughout the clinic. The visual cues provided by the lights give you a simple way to manage room sequencing and see which patient needs to be seen next, improve communication, decrease wait times and run at peak efficiency. Next, our Xtrac Board aggregates data from the Light System, via a central large screen monitor in the clinical area to provide you with a bird's eye view of your entire operation. Expeditor's Xtrac Room Dashboard allows you to instantly identify which rooms are occupied and for how long, where staff & members and patients are located and how long they have been in the exam room...all in real-time.
Now that all exam rooms are occupied, the Clinic Manager has access to our KPI Dashboard, those are Key Performance Indicators or each step of the patient flow process. With the ability to view on a monitor in their office or somewhere within the clinic, the Clinic Manager can now see how long it is taking at each stage of the process. Knowing how long it is taking at each step allows the Manager to make change within the clinic to improve patient flow efficiency and ultimately increase throughput to improve the bottomline.
Armed with the knowledge provided by our Xtrac Board & KPI Dashboard, along with the Light System, your practice will have access to a complete visual management system that allows you to make immediate, actionable changes to remove patient flow bottlenecks and resolve patient flow challenges…as they occur.
Finally, Expeditor's team of lean clinical consultants works closely with you to analyze patient flow data gathered on your Xtrac client-centric Metrics Scorecard.
Xtrac captures and measures a wide range of KPI's, so that you can manage and monitor your patients' complete experience from check-in to check-out.
We'll help you understand all the insights provided by Xtrac, develop a plan to streamline and optimize overall patient flow efficiency and implement any necessary changes along the way.