Respondents report more robust volume growth in ambulatory surgery and physician office business segments compared to inpatient care. Nearly 90% say they are observing active migration to non-hospital settings such as ASCs and Outpatient Clinics.
Health systems report sluggish return of inpatient surgeries simultaneously with robust growth of ambulatory surgeries. Over half (52%) report a growth in ambulatory surgery volume of 6% or more compared to just 18% indicating the same for inpatient surgery. In addition to disproportionate growth in ambulatory volume, all but six respondents report active migration of care to non-hospital settings such as ambulatory surgery centers (ASC). These results lend credence to speculation of accelerated and permanent site-of-care shifts from recent policy, regulatory, and payment changes for non-hospital sites of care.
88% Of respondents report they are observing active migration of care to non-hospital sites or ASCs and Outpatient Clinics.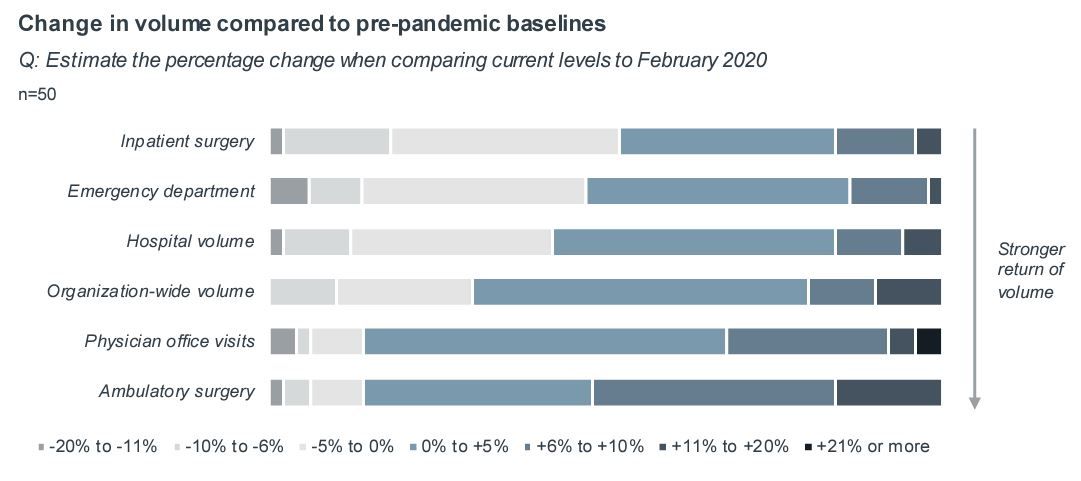 Why does this matter? Sluggish growth of inpatient and emergency care volume creates a longer glide path to financial stability—especially for those without enough hospital-outpatient and ambulatory capacity. In the long term, U.S. health care policymakers and private insurers continue to support site-of-care shifts by expanding payment and influencing patient choice for alternate venues of care. Disruptive players are putting their thumb on the scale, using advantages in cost structures and capital availability to grow market share. Healthcare institutions are not resting on their laurels, organizations have embraced telehealth, remote monitoring, and acute care at home models of care.
Questions to consider:
1. Will federal and state lawmakers preserve payment and regulatory flexibilities initiated during the Covid-19 public health emergency for non-hospital settings of care?
2. At what pace will procedures with recent Medicare ASC payment approval—including total knee arthroplasty, total hip arthroplasty, and some cardiac catheterization procedures—shift to freestanding settings?
3. What tactics will employers and health plans use to accelerate site-of-care shifts locally?
4. To what extent will physicians partner with health systems to provide patients with community-based care options?

Expeditor has been focused on providing turnkey solutions for ASCs and Outpatient Clinics for over 40 years. Let us show you how our life safety equipment provides ASCs the most advanced technology solution on the market. In addition, if you are looking for an organization that is focused on improving The Patient Experience in your outpatient clinic, look no further than Expeditor, our focus has always been on improving the patient experience through increased Patient Flow efficiency in outpatient clinics. Let us show you how our technology has increased patient flow efficiency for over 7,000 clients, Contact Us today!